Ford Books and Videos from Amazon
---
If you order one of my books through Amazon.com's website, be sure to click your "Back" button to come back to my listings for more!
---
Also, check these books recommended by Amazon.com, for customers interested in the types of books sold on this page!
---
Ford Total Performance: The Road to World Racing Dominance

---

High Performace Ford Parts Interchange 221 to 460 Cubic Inch

---
For all the other parts of your older Ford car.

---
This book is the catch-all bible of 60's and 70's era small-block and big-block engines. A VERY GOOD RESOURCE! Very good FE section!
By Pat Ganahl

---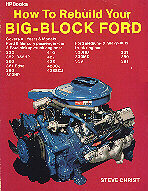 How to Rebuild Big-Block Ford Engines
This is the Steve Christ book that everyone who's ever built an FE raves about. A must-have for any FE nut!

---
How to Rebuild Ford Engines
Covers the more modern 351C, 351M, 400, 429, 460 canted valve engines.

---

The Official Ford Mustang 5.0 Technical Reference

---
How to Tune and Modify Your Ford 5.0 Liter Mustang 1979-1995

---
Ford Windsor Small-Block Performance

---
How to Rebuild Small-Block Ford Engines

---
Shelby American Racing History

---
Boss and Cobra Jet Mustangs: 302, 351, 428, 429

---
Catalog of Mustang ID Numbers 1964 1/2 to 1993

---

Illustrated Mustang Buyer's Guide

---
The title can't get much simpler than that, now can it?

---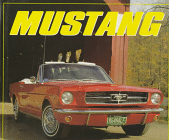 D'oh! It looks like it can!

---
How to Power Tune Ford Sohc : 4-Cylinder 'Pinto' & Cosworth Dohc Engines for Road & Track
By Des Hammill

---
The Ford Y-Block : How to Repair and Rebuild the 1954-62 Ford Ohv V-8
Yeah, they may be old, but they are still around!

---
The Haynes Ford Automatic Transmission Overhaul Manual
Step by step photos of complete teardown and assembly for the Ford C3, C4, C5, C6, and AOD transmissions. Excellent tip blocks on how to make measurements for end play and clutch pack clearances.

---
Videos
---
Starring Steve McQueen
68 Mustang vs. Dodge Charger through the streets of San Francisco. Steve McQueen did most, if not all, the stunt driving in the Mustang.

---

Starring Tom Selleck and Don Ameche
Stockbroker Tom Selleck is forced to take care of his Alzheimer's suffering father (Don Ameche). The car scenes are great, and there is a Pinto scene that just MUST be seen by any Pinto fan. This is hilarious, despite some reviews by movie critics. I own this one!

---
If you want to do a search for anything on Amazon.com, here is a search box.
This is a neat search, because it looks in Amazon Auctions and Zshops as well as the normal books and videos. If you need an obscure book, enter the name or subject here, and give it a whirl! I found an old, out-of-print Pinto repair manual here.
I appreciate your patronage!