Honda Acura Books and Videos from Amazon
---
Also, check these books recommended by Amazon.com, for customers interested in the types of books sold on this page!
---
Honda and Acura Books and Videos
---
Honda/Acura Engine Performance: How to Modify D, B and H Series Honda/Acura Engines for Street and Drag Racing Performance
Review from Amazon.com website:
As a beginning tuner, I have found this book to be very helpful. I highly recommend it to anyone who is interested in modifying their Civic, Prelude, Accord, or Integra. The information is presented in a fairly organized fashion, so it is easy to follow. Most of the parts and processes are described accurately in their cost and difficulty to install/perform. There are a few brand-name plugs, but most of the names mentioned are truly high quality parts (and not just paying sponsors).
The author seems very knowledgable about the topic, though there are some disheartening typos... Like VTEC being spelled VTECH... not usually the sign of a Honda expert!
A beginning tuner will enjoy learning the basics of engine design. Kojima wisely describes an engine as a giant air pump, and explains the importance of air flow very well. Thanks to this book, I knew exactly what size intake and exhaust to buy when I swapped an H22 engine into my 92 Accord (unfortunately, the info given on swaps is limited). There is also a good deal of detail when it comes to cam design and timing, head modifications, bottom end modifications, piston design, etc.
The majority of this book is focused on forced induction, such as nitrous oxide, supercharging, and turbocharging. The author clearly favors turbocharging, and goes fairly deep into some math and theory. There is definitely a wealth of information on turbocharging for anyone who is interested.
The book also seems geared toward the B series engines, with the H series being a bit of an afterthought. Still, I was able to learn very much useful information. I still learn a bit every time I pick it up! Definitely worth the money for a beginner. Experts may not find much new information here.
---
High-Performance Honda Builder's Handbook: How to Build and Tune High-Performance Honda Cars and Engines (S-A Design)
by Joe Pettitt
From Amazon.com website:
The first edition of "Honda Builder's Handbook" Volume 1 has become the "Bible" of how-to books for high-performance sport compact and Honda enthusiasts alike, having sold more than 29,000 copies. This new revised edition brings the reader up to date with the latest tricks and techniques used to get maximum horsepower from Honda engines. This revision covers all the fundamentals of super-tuning a high-performance Honda/Acura engine and gives real world examples that prove the theory and show you how it works in practice. This edition contains advice from Honda performance experts, such as Oscar Jackson of Jackson Racing and Rob Smith of RPS. It also includes build-up information on a B20/B16 Hybrid, a 12-second turbo-charged GSR Civic, PAC Motrosports stroker motors, and a B20/B16Ai "Frankenstein" combination, and covers the build-up of an ultra-radical 825-horsepower turbocharged B18CI Honda Civic.
---
Honda & Acura Performance Handbook (Performance Handbooks)
by Mike Ancas
Review from Amazon.com website:
I bought this book late in october and have been enjoying it ever since.there is so many helpful chapters from intake systems to turbos. it helps people who want to drag race, street race, or even circuit racing. i lkie some of the specific information given like in the motor section where Mike gave listings of all the motors. that could be a great help in chosing the right one for a motor swap. after puchasing this book i have been able to squeeze out a few tenths of a second out of my honda on the drag strip. i have gained a few extra horse power after doing some of the things mentioned in the book. its almost like horse power in a book.
---
How To Build Honda Horsepower: Dyno-Verified Results
by Richard Holdener

From Amazon.com website:
Honda performance enthusiasts all have one basic question when it comes to making their cars faster: "What parts work, and what parts don't?" The only way to answer that question is to install various parts on a car and test the power output on a dynamometer (dyno). Richard Holdener has done that in "High Performance Honda Dyno Tests".
Holdener's extensive testing provides dyno-proven data for all popular Honda performance parts, from air intake systems to exhausts, cams and cylinder heads to nitrous, turbos, and superchargers. There is even a chapter on engine build-ups. In addition, dyno tests on nearly every Honda model, from the single-cam DX to the 2.2L Prelude, are included. Acura models are covered as well, from the 1.8L LS through the GSR and Type R all the way up to exotic NSX. If you're looking for performance answers, there is no better place to find them than in this book.
---

Civic Duty: The Ultimate Guide to the World's Most Popular Sport Compact Car - the Honda Civic
by Alan Paradise
Review from Amazon.com website:
This book would help you to get to know your honda civic engine even more. Good book for beginners. It would tell you which mods are worth buying or not and what kind of power to expect. It tells you what kind of HP gains you can expect from your engine when modified from "don't even bother" to "mild" to the "best". The only thing I think it didn't cover is the auto tranny which some has... it mostly concentrated on the D16Z6 SOHC and B16A DOHC Si engines and manual tranny. All in all get this book if you wanna learn more about civics and it would help you get on the right track.
---
Honda/Acura Performance Handbook
by Sport Compact Car Magazine
Review from Amazon.com website:
This book cleared up a lot of things for me. The method of tuning of Hondas and Acuras was explained in great detail. It helped me get a good idea of what to do first. Also, it includes short features on some specific Honda and Acura tuners. Maybe the most helpful of all, however, was the features on the technical aspects of many not as well known modification parts. Now I know what the difference between driving, fog, and spot lights is. It also includes sections on performance wheels and tires, and how to build the perfect Civic. The book was a great overall look at Hondas and Acuras, without using too much over-tecnical lingo. You don't even have to own an Acura or Honda to enjoy it. I am fourteen years old and I loved it! I would reccomend this book to anyone who is interested in car modification.

---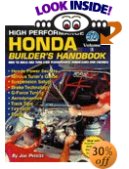 High Performance Honda Builder's Handbook, Volume II
by Joe Pettitt
From Amazon.com website:
Following the very popular book of the same title, this work focuses primarily on suspension modifications, brake technology, nitrous oxide tuning, tire selection, aerodynamic body mods, fuels, and dragstrip/performance driving tips for these front-drive wonder cars. Illustrated with hundreds of photos.
---
If you want to do a search for anything on Amazon.com, here is a search box.
This is a neat search, because it looks in Amazon Auctions and Zshops as well as the normal books and videos. If you need an obscure book, enter the name or subject here, and give it a whirl! I found an old, out-of-print Pinto repair manual here.
I appreciate your patronage!