Auto and Motorcycle Videos and DVD's
---
Note: Some editions are VHS and some are DVD. I'm not going to list both here, so make sure you get the format you really want when you are redirected to Amazon. I really recommend you look seriously at the DVD versions of these films, if available, because many have good interviews and the ability to show the film in widescreen.
Note: If you click on the link and it tells you the movie is out of stock, click on the title of the movie at Amazon, and there may be used ones for sale, or another format (VHS or DVD) may be available.
The majority of these movies are from the 1980's and earlier, which were the heydays of motorized action movies. There have been a few new releases and remakes of car-action movies in recent years, but those movies use digital effects for their stunts, and I won't stand for that! REAL cars for me!
---
The Gumball Rally

This is my absolute favorite car movie ever, and is in my personal top ten movies of all time!

Stars Raul Julia, Michael Sarrazin, Gary Busey, Steven Keats, and a cameo by Linda Vaughn.

This is a comedy, with lots of action, no foul language, no deaths, and no blood, so nothing will make you flinch. The racing scenes through downtown New York have never been equalled. Have you ever seen a Ferrari Daytona Spyder flying at 100 mph through downtown New York? The Shelby Cobra 427 is amazing. All the sounds are correct, too. The race through LA's concrete rivers is amazing. What's most amazing is that they risked these valuable original cars in the first place! I own this video, and watch it regularly!
---
Bullit

Starring Steve McQueen

68 Mustang vs. Dodge Charger through the streets of San Francisco. Steve McQueen did most, if not all, the stunt driving in the Mustang.

A review from Amazon:

Set in San Francisco of the late '60s, Bullitt shows what Hollywood was once capable of. In a genre that is now formula, special effects and graphic
violence, this film uses a good script, great acting and fine directing to accomplish a story that still manages to entertain. One of the first of a long line
of cops versus politicians and crime movies it's still one of the best.

McQueen struggles with both the criminals and the bureaucracy in his search for the killers of one of his fellow cops. The plot itself is fairly simple with
the secret to the films quality being the atmosphere, honest situations such as the surgery scene and great action sprinkled throughout. Special
mention should be made of the realism of many of the scenes and the use of San Francisco as location for the film.

Of course Bullitt contains one of the great car chase sequences in modern film. Without the use of special effects or expensive tricks, the scene is
complicated and simple. Steve McQueen did much of the driving himself, while the hills of San Francisco contribute to the action.
The excellent cast includes Steve McQueen, Jacqueline Bisset and Robert Vaughn. This is probably Peter Yates, who directed The Dresser and
Eyewitness, best work. Also look for a brief appearance of Robert Duvall as a taxi driver. Highly recommended.
---
Le Mans

Starring Steve McQueen

Story of a racing car driver who races at the 24 hours of Le Mans in the 60's.

From Amazon:

Of all the classic race movies out there this is probably the most minimalistic and puristic one. Don't watch this movie for the rudimentary love story (if
one can call it that way). Don't watch it for dialogue - Steve McQueen does not speak more than a 100 words in this film I would guess. Watch this
movie for the breath-taking drama that develops in the pictures, since in racing a picture says definitely more than a 1000 words. The camera work is
outstanding, and the story is built in a very detail-minded, documentary-type style that matches the coolness of McQueens persona. We see his
charcter develop almost entirely in his actions, in the powerful flashback to an accident a year ago that he reflects upon as he returns to the same
scene on the same track.

As he drives to the track, stops his Porsche at the scene of the accident and stares back into the past, we begin to understand what kind of a racer he is.
We see the quiet, yet passionate rivalry between him and his major competitor for the title in the Le Mans 24 hour race and we see his equally quiet interaction with the widow of the fellow driver who perished in that fateful accident. While personal interactions are very subdued, the true passion erupts on the race-track and this movie is superb in this regard. We see a generous and well-filmed display of the greatest prototypes and road-racers out there at the time. If you are a race-fan, you must see this movie, if you are not, you probably won't get it. As a race fan I give 5 stars.
---
Grand Prix

Starring James Garner

From Amazon:

Once again, I am writing another review, and would seriously like to see the Borders marketing team to take notice and do all they can to ensure the
release of this timeless classic. If you are a racing enthusiast, this is the movie! We have now witnessed the upcoming release of Le Mans, so I hope
Grand Prix is on its way. This 1966 movie was amazing, you see all the classic teams, BRM,Ferrari, Cooper, and a cameo of F1 stars, Jim Clark,
Graham Hill, Jochen Rindt and others. James Garner, Yves Monstad, Toshiro Mifune, Antonio Sabato, Eva Saint Marie deliever a stellar performace.

This is a MUST have in your DVD collection. I have viewed this movie many times, and its capturing the young generation of motorsports enthusiasts.
The action is excellent, filmed at a time when racing was racing, to live and die. Its also nice to see the legendary circuits, Monaco, Spa, Zandvoort,
which the later 2 are no longer part of the F1 calendar. Borders, please as racing fans, we really need this film released!
---
Winning

Starring Paul Newman and Joanne Woodward

From Amazon:

Now and then, it can be a real pleasure to dip into the years and pull up an older movie for a night of "couch tatering." Not that this is such an "old"
movie... but old enough that the differences between today's special effect dazzle and flash and 1969 are evident in pacing, dialogue, general style.
Today's movies sometimes are lost in technical fireworks. This movie pleases with its simple quality of good actors who interact well with each other
and stand on their own acting strength without too many fireworks.

And still, the director, James Goldstone, deserves kudos for his creativity and innovativeness throughout the movie. The opening scenes are original
for 1969, beginning with a close-up of a buttery yellow dandelion, moving through clips of families and racing fans gathering together. Of note are
clips at the Indianapolis race track - a scene of a misty morning at the track the day of the Indy 500, scenes of fans entering the park, race car drivers
and mechanics in tense preparations, increasing adrenalin, burgeoning crowds. I have yet to attend the Indy 500, but seeing these scenes certainly
made me hope that soon enough I might.

My fellow "couch taterer" and I had interesting conversations offering the male/female viewpoint on the scene of infidelity that centers the plot - the
reasons behind the betrayal, if not excuses, the ramifications to all involved, including the son played by Richard Thomas, the responsibilities befalling
all, the likelihood of a reuniting at movie's end.

In short, when a movie catches your imagination, makes you want to visit the place and event portrayed, and gives food for thought and discussion at
its end, then this is a movie worth adding to a collection, whether one is a race fan or not.
---
Folks!

Starring Tom Selleck and Don Ameche

Stockbroker Tom Selleck is forced to take care of his Alzheimer's suffering father (Don Ameche). The car scenes are great, and there is a Pinto scene that just MUST be seen by any Pinto fan. This is hilarious, despite some reviews by movie critics. I own this one!
---
The Italian Job

Starring Michael Caine, Benny Hill, Noel Coward, Raf Vallone

British heist of gold in Italy, using three Mini Coopers. Lots of awesome car action! Car stunts by famous stunt driver Remy Julienne.

A review from Amazon:

There are few genres as enduring in the movie biz as the heist and they don't come any more entertaining than this one. Michael Caine is at his best
as a fresh-out-of-jail, small-time crook who decides to pull the job of the century. To achieve this, he sets about finding someone to bankroll the
enterprise, in the person of Noel Coward. Coward, a big time syndicate boss is still running his business from jail and after some persuasion, agrees.

Caine then sets about assembling a cast of idiosyncratic no-hopers to carry out his bold plan, among them Benny Hill, an electronics wizard with a
fondness for fat women. After much practicing, three teams in Mini Coopers (driven by "chinless wonders") set off for Italy with a bus-full or two of
supporters all dressed as soccer fans. The arrival on the scene of the Mafia does little to dampen their enthusiasm and the fun really starts.

The climax of this action/farce is the car chase through the streets, sewers and even the skyline of Turin. Plenty of action, plenty of laughs and all very
well paced. If anything, it's probably too short (though I don't mean the ending...) but I guess that just makes you appreciate it that much more. An old favorite which is hard to beat. Know wot I mean, Guv?
---
The Love Bug

Starring Dean Jones, Michelle Lee, Buddy Hackett

Yeah, yeah, yeah...I know what you're saying..."It's a kids' movie." But, this movie has some fantastic racing scenes in it, with lots of vintage race cars in the backgrounds. And, don't we all wish our cars could do wheelies like this?
---
The French Connection

Starring Gene Hackman and Roy Scheider

Some of the most awesome car chase scenes ever filmed!

A review from Amazon:

Voted as one of the top 10 films of all time, this DVD does not disappoint. Plenty of extra features, including some interesting film that did not make it
into the final version, plus the great flick make this a must buy for serious film buffs.

Hackman is perfect in the role, yet interestingly, according to the documentary, really struggled with some of the raw toughness that makes his
performance so wonderful. Scheider is the perfect partner and Fernando Rey plays an excellent Frenchman.
---
The Seven-Ups

Starring Roy Scheider

Companion to "The French Connection," with another great car chase scene.
---
Wages of Fear

Starring Yves Montand

My wife and I rented this on VHS, which is available only in French with English subtitles. If you get the DVD, it comes in various languages, including English, and also in French with English subtitles. So, get the DVD if you're not fond of trying to keep up with the reading. In order to get the full impact of the movie, though, you should watch it in French, to get the inflections of the actors.

So, you're probably wondering why I've included a 1953 French film along with a bunch of car movies. Well, it just so happens, this is a chase movie, and the two teams are in old, rickety trucks. The catch? Each is loaded to the hilt with nitroglycerin, a very unstable explosive, and the road is pretty much dirt and rocks the whole way. The first truck to make it to the destination, an out-of-control oil-well fire in Venezuela, wins $2000, which is enough to get them back to their homes in Europe.

Winner of the 1953 Cannes Film Festival!
---
The Blues Brothers

Starring Dan Aykroyd, John Belushi, Carrie Fisher, Henry Gibson, and many many others, including lots of musicians.
Look for a cameo by Steven Spielberg!

This movie wrecks soooo many cars! For the Pinto fans out there, there is even a flying Pinto station wagon!

"It's 106 miles to Chicago, we've got a full tank of gas, half a pack of cigarettes, it's dark, and we're wearing sunglasses."

"HIT IT!"
---
Vanishing Point

Starring Barry Newman

Lots of great action for the Mopar fans!

A review from Amazon:

This is a classic movie that is as much social commentary as car chase. I remember watching this on a Saturday matinee on my local television station
(long before the advent of cable television) and was mesmerized.

I recently purchased the VHS version and it was just as sweet twenty years later.

The premise isn't much: the main character, former member of society now riding on the fringe, has to get a car to San Francisco in 15 hours. Load
up on amphetamines and off we go. The 'plot' is merely a vehicle for the ride.

The car chase scenes are great and realistic (none of the special effects laden hocus pocus you see today) and the cinematography of the West is
beautiful. The characters, from the DJ who plays mystical guide to the helpers the driver meets in the desert, show life on the fringe. I'm sure on some
level this is a mystical, metaphorical journey of sorts but to me it is simply fun to watch.

The soundtrack is absolutely great. It is kind of the O Brother Where Art Thou of the 70s -- the one that missed the radar. It isn't music you hear on
the radio and it certainly isn't mainstream in any fashion but it sure is good.

I give this five stars quite simply because of the cinematography, the cast of characters and the music. Well worth the visit. They just don't make films
like this anymore.
---
Two-Lane Blacktop (1971)

Did you know: The 55 Chevy in this movie was re-used in American Graffiti!

A review from Amazon:

Two-Lane Blacktop is literature on film! At first viewing, it may seem stylistic but plotless, as the casual observer without proper frame of reference will
miss some subtle subplots.

The first subplot is the contrast of the genuine versus the wannabe, as revealed in the cars and their owners. There has always been a street-race
rivalry between the the home-built hotrod and the checkbook-aquired factory musclecar (fellow gearheads will nod knowingly). This contrast extends
to The Driver, who is earthy and real, and GTO, who is always playing a role. At first, GTO tries to stand toe-to-toe with The Driver, but he is
eventually subjugated by the horsepower of the '55 and the mechanical know-how of Driver and Mechanic.

The second and more interesting subplot is the tension within The Driver, who feels more comfortable with machines than with people (perhaps
machines are easier to control). Believe me, this type of personality exists - confirm with any gearhead or IT professional. His machine zen is
interrupted by the hitchhiker, to whom he opens himself up (barely). The hicthhiker eventually leaves, and at the end of the movie he slides shut the
window of the '55 Chevy, symbolically shutting out human emotion/interaction and returning to his mechanical world.

Watch this movie looking for these subplots, and you may have a whole new viewing experience.
---
Gone in 60 Seconds (1974)

Starring H.B. Halicki

This is NOT the same movie starring Nicholas Cage, but is FAR SUPERIOR!!!!! I remember seeing this movie at the local drive-in theater in 1974, when they brought Eleanor on a car trailer for all to see. It was amazing that the car still moved under its own power.

What's really amazing about this movie is the time-warp of background images all through the South Bay area of Los Angeles, including Gardena, Torrance, and Long Beach. I lived there for a few years in the mid-80's, and wow, what a difference a few years make! They don't make movies like this, with wide-angle shots, because filmakers these days don't want you to see backgrounds.

The actors in this movie are amateurs, for sure, but the star of the movie is really the car, a yellow 73 Ford Mustang.
---
American Graffiti

This movie launched many careers, including those of Harrison Ford, Richard Dreyfus, Ron Howard, Mackenzie Phillips, Cindy Williams, and many others. Lots of great cars in this movie! The 55 Chevy Harrison Ford drives is the very same car used in Two Lane Blacktop! One of my favorite movies of all time!

From Amazon.com:

American Graffiti was the movie that broke George Lucas into the mainstream. The movie is based on his teenage days growing up in the early 60's in
a small Northern California town. The movie starred virtual unknowns who went on to big Hollywood careers.

Ron Howard was the only well known actor and the role of Steve was his first chance to play a more adult role. The film takes place over the course of one night where Mr. Howard's Steve and his best friend Curt are preparing to leave town and head off to college on the East Coast. Richard Dreyfus plays Curt and Cindy Williams plays his sister and Steve's boyfriend.

Paul LeMat plays John Milner who is the cool guy in town with the fastest car around. He gets tricked into picking up the 13 year old MacKenzie Phillips and spends the night driving around with her. Charles Martin Smith plays the nerdy Terry the Toad. Steve entrusts him to watch his car while he's away. he cruises around and picks up Candy Clark and through a series of elaborate lies, gets her to park by the lake. The car is stolen, but they get it back with the help of John.

The movie closes out with a drag race between John and Harrison Ford's Bob Falfa. The movie is spiced up by its soundtrack which helped bring back the 50's nostalgia that permeated the 70's. The film also introduced the infamous DJ Wolfman Jack to the country. The film is an unapologetic feel good, warm movie and its major success allowed Mr. Lucas to make another little movie by the name of Star Wars.
---
Hollywood Knights

Tony Danza, Michelle Pfeiffer

Remember the 57 Chevy "Project X" from Popular Hot Rodding? It gets star billing in this comedy featuring the happenings of a cruise night in 1965.

Review from Amazon:

I discovered this film on cable when I was still in high school (the 80's) and I kept waiting for everyone else to catch onto this little gem. In the style of
Animal House and American Grafitti and Porky's this hilarious fifty's film captures all the innocence and vulgarity of the 50's on it's way out in the wake
of the Viet Nam War.I love the fact that so much of the film's basic story line could have been an (edited) episode of "Happy Days", yet the most
hilaroius moments of the movie could only be viewed along side of Animal House or American Grafitti. It is silly and nostalgic and just plain
unforgettable.

The story follows a club car and the last night its hang out drive-in is open. There are pledge antics following a local radio station (hosted by DJ
Wolfman Jack), teen love as someone is shipping out to Viet Nam, Cheerleader panks, promiscuous teenage sex, fart jokes, drunken antics, bumbling
cops, and lots of 50's cultural references. Michelle Pfeiffer as an aspiring actress is stunning and fabulous as a 50's car hop goddess (WHY did she
follow this up with Greasee 2?!?!). And I still can't watch HBO's Arliss without seeing Robert Wohl as Newbaum Kirk. Freaking classic as his debut film
role!I actually heard a recent interview where he said despite all his work since and fame as Arliss people still stop him and say , "Hey! Newbaum
Kirk!".

There are a lot of now major stars making their early debuts (most notably Robert Wuhl-Arliss, Michelle Pfeiffer- uh everything!,Fran Dresser- The
Nanny/Saturday Night Fever, and Tony Danza... well, you know!) This film really does combine the best bits of previously mentioned Animal House
and American Grafitti and Porky's. Don't look for Oscar performances or deep life-lessons here, but know that this film will make you laugh over and
over and over again no matter how many times you watch it! Classic gags and and laugh out loud jokes make this film one to own (note: the fart scene
to "Volare'!) "Lawrence, Lawrence of Arabiaaaa... he was an English guyyyyy!"
---
Heart Like A Wheel

Bonnie Bedelia, Beau Bridges in the story of highly successful drag racer Shirley Muldowney. Anthony Edwards (ER, Top Gun) has a small part as Shirley's son. Good movie, even without the cars!
---
Greased Lightning

Richard Pryor, Beau Bridges, Pam Grier in the story of black NASCAR driver Wendell Scott. I enjoyed this movie, which has a lot of actual NASCAR footage, and even has a shot of a Ford Boss 429 motor sitting on the ground after being removed from a car. VERY AUTHENTIC!!! Nothing at all like "Days of Thunder."
---
Last American Hero / Hard Driver

Jeff Bridges

Review from Amazon:

I absolutely loved this movie! If you have an interest in real life drama, getting over obstacles and above all RACING, then this movie is for you! It
shows the everyday struggle one goes through in their personal life, as well as one's pursuit towards a dream. This inspirational story shows you the
everyday obstacles someone in this sport may go through and increases your interest and excitement with the sport as it is in today's world. I
recommend this to everyone who lives and breathe NASCAR and other forms of racing.
---
Funny Car Summer

Documentary following the summer run of Jim Dunn in his one-of-a-kind rear-engined funny car in the early 70's. Has lots of footage of Big Jim, and even opens with a montage showing a young Mike Dunn on his bicycle, which was equipped with a parachute! Awesome movie!
---
Duel

Starring Dennis Weaver, directed by Steven Spielberg.

This has to be one of the most dramatic and terrifying TV movies ever made. It's so good, you would never imagine it to be made for TV! Awesome story of a salesman, portrayed by Dennis Weaver, who angers the driver of a tanker truck, who then proceeds to do his best to run the guy over!

A review from Amazon:

DUEL is without question one of the best suspense movies ever made and probably THE best TV movie ever produced. Adapted by Richard
Matheson from his short story, its simply about a dorky businessman who finds himself being harrassed by a mysterious psycho who drives a big,
dirty, rusty piece of s**t truck.

Dennis The Dweeb never discovers why he's been singled out by this madman who wants to erase him from the face of the planet. See Dweeby Dennis get paranoid and accuse innocent truckers of hassling him (maybe someone poisoned his cheese sandwich and glass of water- why can't he order a big, bloody steak and a beer?), see Dweeby Dennis get humiliated when his dweeby car isn't good enough to help shunt a broken down schoolbus- but the faceless psycho in the truck can do it.

Yes it is fun watching the little dishmop be mercilessly hunted down by the psycho. I'll stop hassling him to say that Spielberg's direction is superb,
Matheson's script is brilliant and this is a definate must see, I've seen it at least half a dozen times and if you've never watched DUEL before do
yourself a favor and buy a copy.
---
Freebie and the Bean

Starring James Caan and Alan Arkin

I remember seeing this movie at the drive-in theater in my hometown, and the car scenes were hilarious!

A review from Amazon:

Great and forgotten buddy-cop/action/ comedy movie which is a forerunner for other movies like Lethal Weapon, Running Scared, etc. Good comedic
chemistry between James Caan and Alan Arkin in the title roles of two undercover cops trying to nail a mob king pin Red Meyers (Jack Kruschen) and
at the same time trying to protect him from a reported "mob hit". Their banter of partners who annoy, but still very much care for each other is done
well and seems ad-libbed.The film is an action/comedy, but there are serious moments to add to the film's slight absurdity.

This includes a sub-plot in which Alan Arkin is trying to figure out if his wife (Valerie Harper) is cheating on him. Valerie Harper gives an outstanding but brief performance as Arkin's no-nonsense and faithful wife. There is a hilarious motorcycle chase scene through the streets of San Francisco, an incredible stunt of crashing a car off an elevated highway into an apartment building, and a climactic confrontation at the Superbowl game at Candlestick Park. Overall...
Very Entertaining! On network TV the movie is edited beyond recognition, but the video has all the scenes restored. Too bad it is not on DVD. Look
for Loretta Swit (TV's MASH) in small cameo as the gangster's mistress.
---
On Any Sunday

Starring Mert Lawwill, Malcolm Smith, and Steve McQueen! A documentary film by Bruce Brown, of Endless Summer fame.

This movie has some great motorcycle action, and at the end, shows Steve McQueen and friends riding at Devil's Slide, a now-closed area of the Pismo Dunes where I used to ride the dunes.
---
---
The Great Escape

Steve McQueen, James Garner

Two car guys in this movie about an escape from a German POW camp in WWII. Amazing stunts on the motorcycle were performed by McQueen himself! AWESOME!!!

From Amazon:

The Great Escape certainly didn't get its due when it was released -- it wasn't even nominated for Best Picture, Director or any of the Acting awards. In
fact, it was only nominated for Film Editing! It seems, however, that the film doesn't even get its proper due today as it was not on the American Film
Institute's 100 Greatest Film list despite its large following.

The Great Escape is certainly one of the most memorable films I've ever seen. The cast includes the late great Steve McQueen, James Garner,
Richard Attenborough (Director of Gandhi), Charles Bronson, James Coburn, James Donald (Bridge on the River Kwai), Donald Pleasance and David
McCallum (The Man From U.N.C.L.E.). McQueen's performance is riveting and makes the viewer miss him all the more. Garner, who actually was a
"Scrounger" during the Korean War, is terrific. It's also particularly nice to see a performance as a good guy from Pleasance and as a human being by
Bronson (sorry, but Bronson truly wasted his talent in the Death Wish movies). And in an era when studios tried to substitute backlot sets for on
location filming, the POW camp, which was built on location in Germany, looks completely authentic and makes the audience sympathize with the
prisoners' plight even more. The DVD heightens the experience by presenting the film letterboxed in clear, vibrant colors. In addition, the DVD edition
includes a documentary on both the real story and the making of the film. This film is a classic and the DVD edition does it great justice and makes
you realize what a mistake the AFI made by excluding it from its list.
---

If you want to do a search for anything on Amazon.com, here is a search box.

This is a neat search, because it looks in Amazon Auctions and Zshops as well as the normal books and videos. If you need an obscure book, enter the name or subject here, and give it a whirl! I found an old, out-of-print Pinto repair manual here.

I appreciate your patronage!
Search:
Keywords:
This page is sponsored by my company, Gerard's Car, ATV, Cycle Books & Videos, featuring all types of reading and viewing material for motorized transportation.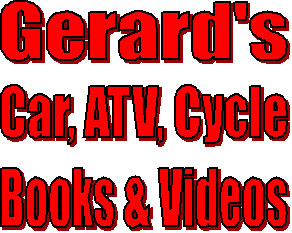 Return to Books and Video Main Page
Questions? Comments?